Stars of Louisville Hampshire Sale - NAILE
Saturday November 11, 2017 - @ 6:00 PM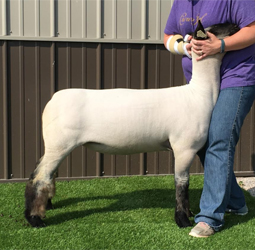 Metro 1741
Registration #:  67257D
Sire:  Rupnow 1115 (RatRod)
Dam: Metro 223
Genotype:  QR
Birth Type:  Single
Birth Date: 2/24/2017
Click here for pedigree!

Straight out of our show pen, this February ewe lamb has so much to offer.  She is sired by an Ott son we retained and her dam is a Raji daughter.  We brought her maternal sister to this very sale in 2015 where she was purchased by the Weaver family.  That ewe went on to become the reserve champion Hampshire ewe at the Houston Livestock Show.  This one offers that same genetic combination with the phenotype to match.  Big racked, big hipped with the bone, shag, and profile to compete in today's show ring plus the rib design and depth of flank to be a mainstay in your flock for years to come.  We like this one a lot and feel she might the best we have brought to this sale yet.